I want to talk about this incredible officially licensed Catwoman costume. It seriously is mind blowing and if you want to have the best costume on the planet then this is the one without a doubt! This high quality, amazing Catwoman costume has it all including the jumpsuit, mask/goggles, boot covers, gloves and a belt.
Move stealthily through the streets of Gotham stealing from the wealthy as the famous and beautiful Catwoman. No one can stop her! This costume is completely identical to the costume Anne Hathaway wore as Selina Kyle in the Dark Knight Rises. I think it's simply fabulous and will be sure to take all the attention.
This Catwoman costume is truly impressive and comes in a simple complete jumpsuit made from stretchy spandex and polyester. You can easily get in and out of this costume as it zippers up the front. The sleeves stop at elbow length and there is a little collar rimming the neckline. The legs are obviously a skinny tight fit but they have tons of stretch so they are made to accommodate. The flexible vinyl front of the costume features four pockets and a middle buckle. It has stunning detailed shiny print that has a vinyl look going up the middle, going to the arms, up towards the neckline and goes alongside the zipper on both sides. I think the belt on this costume is super cool featuring a velcro close and comfortable foam backing that is lined with a soft silk material.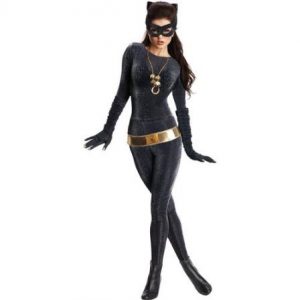 This costume really does come with it all including matching glossy black boot covers and elbow length gloves. It gives you the beautiful mask that she wears which is very comfortable as it has the elastic band around the back and is made from bendable plastic. I love the goggles too as they sit on top of your head and look like cat ears. How perfect is that!
This gorgeous costume will seriously turn heads and will be sure to impress even the most serious of fans. If you love Catwomen, than this costume is definitely the perfect choice for you.