Exploring Galway City is like walking down the streets of a settlement that has seen a lot. It was once a trading post in the Middle Ages and during the Cromwellian Conquest of Ireland; it has endured an almost year-long siege. Although its fortunes have flowed and ebbed over the years, Galway City is now a beloved destination for tourists and a vibrant entertainment hub.
We recommend you include some of the city's famed local history in your Galway City sightseeing. This city grew from a settlement around the fort that once overlooked the River Corrib – Dun Bhun na Gaillime. Once you have learned some things about The City of the Tribes – one of the many nicknames of the city – it is time to know why it is also known as "Ireland's Cultural Heart". The locals here love arts and music and there is some sort of event or festival going on every other day. Galway City has something for everybody, whether you want to celebrate a gallery opening or want to attend a concert.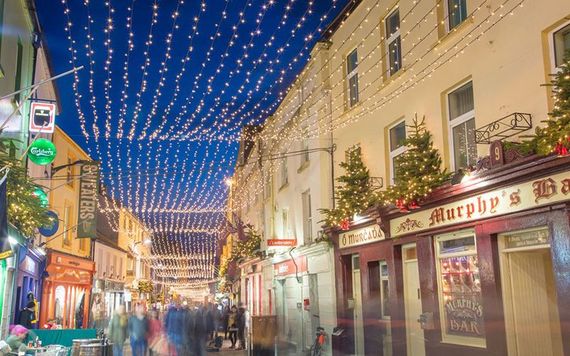 Immerse yourself in the culture and music by strolling through the Latin Quarter. While here, remember to visit the King's Head Pub, cast a line into the River Corrib, and sit for a while in Eyre Square. As you walk down the heart of the city center, you will find pubs, buskers, and music everywhere.
Galway City Museum is a top choice museum in this city. Exhibits at this museum convey the city's social, cultural, political, and archaeological history engagingly. Look out for the sections covering the role of Galway in the events that shaped the country and the iconic hooker fishing boat. Additionally, there are regular gallery workshops, talks, and tours. With its Spanish Arch views, the ground floor café is an ideal rest stop.
The Spanish Arch is believed to be an extension of this city's medieval walls. It was designed to protect the ships that docked at the nearby quay while goods were unloaded from Spain. It was destroyed partially by the tsunami of 1755. Today, it reverberates with drummers and buskers, and the riverside and lawns form a gathering place for visitors and locals on sunny days.
While it is easy to lose count of all the performances you take in at the cafes and pubs, don't lose sight of the natural beauty of Galway City. As the sun goes down, you can take a breath of fresh sea air, exchange adventure stories with the locals, and take a stroll along Galway Bay.